17th annual event set for April 28, 2018!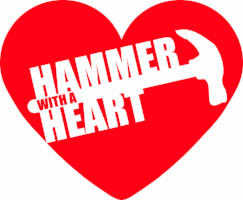 Hammer with a Heart provides major home repairs and maintenance, and improves families' safety, comfort and health in their homes through the help of generous sponsors, skilled volunteers and community volunteers. Since 2002, together we've repaired 116 Dane County homes!
Thank you again to our amazing 2017 sponsors and volunteer teams! -- courtesy WMTV-Madison (NBC15)
These incredible skilled groups lead projects in 2017:
J.H. Findorff & Son Inc.
Carpenters Union - Local #314
Project Home
Waunakee Remodeling, Inc.
We are so proud to partner with them on this community building event.


Sponsors for Hammer with a Heart 2017
Program Sponsors
House Sponsors
Materials Sponsors
Media Partner
Lunch Sponsor